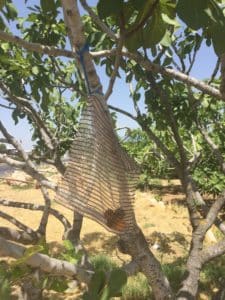 Net bag in a fig tree with male
figs hung for the so-called lactation.
https://en.wikipedia.org/wiki/Fig_wasp
AYDIN: Market players stated that Turkey ranks first in the World in the export of dried figs and that the demands are increasing continuously
Market players stated that extreme heat had caused a little stress on the trees during the last weeks. There may be less crop than last year they added.  However, rain is forecasted again in the Aydın region for the next week, which is a big concern as these rains will not be beneficial for the development of trees anymore; on the contrary, they may even cause harm.
It was stated that the harvest might be 1-2 weeks later due to the cooler temperatures than expected in the spring months. Still, market players are now in the meaning that there may not be a delay in the harvest anymore, especially due to sweltering temperatures.
Market players also informed that there is currently no problem with fruitset and figs are developing normally. Exporters will start giving new season prices earliest Mid August if no extraordinary situation occurs due to the weather conditions during the next future.
Exporters who still have stocks offer from time to time high prices these days, there are therefore big differences on supplier basis, but there is no product in the market at all since weeks.
The export prices remained the same varying again hugely on a supplier basis due to lack of raw material availability.
Turkey exported last week 898 mt vs 656 metrics mt during the same week of last year.  The total exports ranged at 61.736 mt of the current crop, 62.004 mt in the same period of the last Season. The difference is meanwhile only 268 mt.
Exports of dried figs in mt
Season
2020/21
2019/20
Amount
61.736
62.004
From the beginning of the Season until 3rdf July 2021
 Dried figs, Turkey, crop 2020
| | |
| --- | --- |
| Type | USD/mt |
| Bulk, Nr. 1 | 5470 |
| Bulk, Nr. 2 | 5170 |
| Bulk, Nr.. 3 | 4875 |
Source: Trade
For more information, facts and figures, become a member. Click here.