ISTANBUL – Concerning the current harvest, the season seems to be over. Enquiries for prompt delivery are few and far between, and even enquiries about the coming harvest are now mostly for delivery in 2022. In Turkey, the time for holidays, repair and cleaning work in the factories is now beginning to be prepared for the upcoming season.
Most exporters have a certain volume of orders on the books, so they are not overly active in the market at the moment either. They are also waiting for the decision of the TMO (probably at the end of July), and the subsequent reaction of the market leader to then offer actively again. Therefore, we expect little activity in the market in the coming weeks.
Furthermore, there is hardly anything to report this week. The development of the bushes is in the normal range, and there are also no abnormalities in the weather. Harvesting for the coastal regions is expected to start in 4-6 weeks.
In terms of the exchange rate, nothing is exciting either. The Turkish lira is fluctuating around 10.30 TRY/EUR with changes usual for the last weeks.
No special events on the market this week
Demand weak, sellers not very active.
The market continues to wait for an impulse from TMO / market leader.
Vegetation level/weather in the normal range
The little movement also in the exchange rate
Prices, however, constant
We expect the same situation for the coming week(s).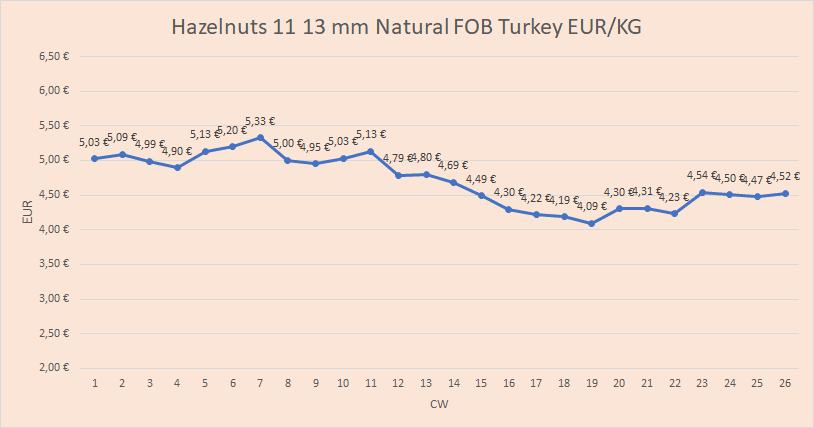 For more information, facts and figures, become a member. Click here.