Instanbul – Contrary to expectations, this trading week has been somewhat busier. It seems that some buyers are still surprised by the fact that the market has turned around. Previously, the prevailing view was that a large crop must also bring low prices; moreover, sellers were much more speculative concerning exchange rate developments a few weeks ago. Now that more attention has been paid to the situation, a certain surprise has emerged, leading to a (small) increase in demand. However, the tendency towards long-term cover is still not visible.
We have seen an increasing stabilisation of the Turkish lira over the course of the week about the exchange rate. Thus, the phenomenon that we saw just a few weeks ago, in which producers were betting on an increasing weakness of the lira and had already factored this into offers, can hardly be seen at present. Nevertheless, we observe that the offers between the producers differ considerably, even for natural kernels, with the swings tending to increase towards the top. This is probably another reason why interest in buying has increased slightly.
Furthermore, there is not much to report. There were reports of regional incidents of bushes shedding nuts in large numbers, but this could not be confirmed. Thus, the market remains on hold (bid by the TMO and corresponding reaction by the market leader).
– Slight increase in demand on the export market due to delayed purchases
– Turkish lira stable in the course of the week
– Customers continue to shy away from long-term contracts
– Offers (2021 crop) increasingly inconsistent with an upward trend
– Market still waiting for an impulse from TMO / market leader
For more information, facts and figures, become a member. Click here.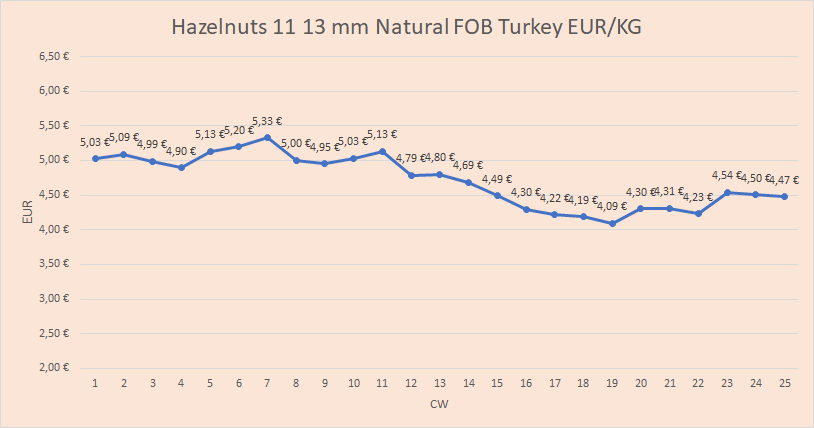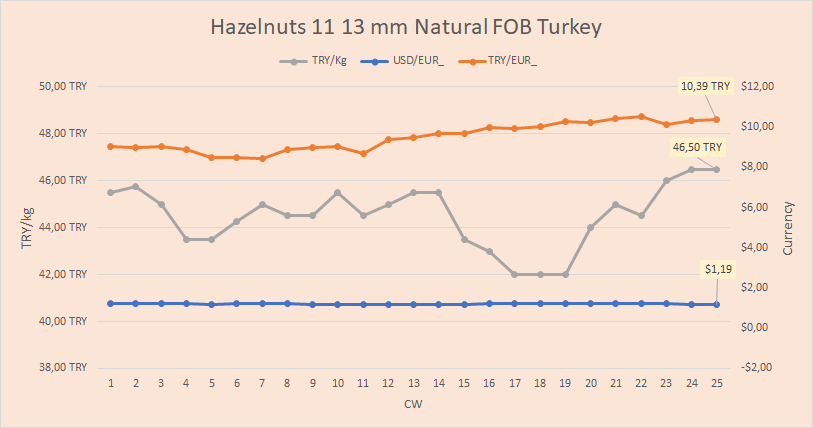 For more information, facts and figures, become a member. Click here.