This week, the Turkish Ministry of Agriculture announced its harvest estimate of 686,412 mt. Although it is common for the estimates of exporters and the Ministry to differ significantly, a deviation of almost 120,000 mt was not expected by the market. Accordingly, some sellers reacted unsettled, whereupon the market rose slightly. Currently, some teams from the export union are counting in the plantations. So far, there are no statements that could revise the previous forecast of 800'00 mt to such an extent.
Apart from this publication of the figures, this week was also quiet, as expected, in line with the previous weeks. Smaller deals are being made repeatedly, but there are hardly any larger enquiries on the market at the moment. However, the individual deals for the new crop are increasingly confirming the price level expected by exporters.
About the TMO, the announcement of the purchase price is expected after the Feast of Sacrifice holidays (20.07 – 23.07.2021). It is still expected that the TMO will adopt last year's price with a mark-up of about 20%, as it did for the price of tea. This is roughly in line with the inflation rate, which was reported this week as 17.5% year-on-year (the same month in May). President Erdogan has then demanded interest rate cuts from the central bank, which is the opposite of the textbook opinion. However, it can be assumed that the central bank will follow the president's will. How this will affect the national currency is uncertain. It no longer enjoys the confidence of the markets since the last change of the central bank chief.
In terms of the exchange rate, there is still nothing exciting. The Turkish lira is fluctuating around 10.30 TRY/EUR with changes usual for the last few weeks.
Ministry of Agriculture publishes harvest estimate of approx. 686,000 mt vs 800,000 mt from the export union (deviations are not unusual here).
Commodity prices rise slightly due to the resulting uncertainty.
Still little demand, but good export figures.
TMO decision expected after the Feast of Sacrifice.
Vegetation/weather still within normal range.
The little movement also in the exchange rate.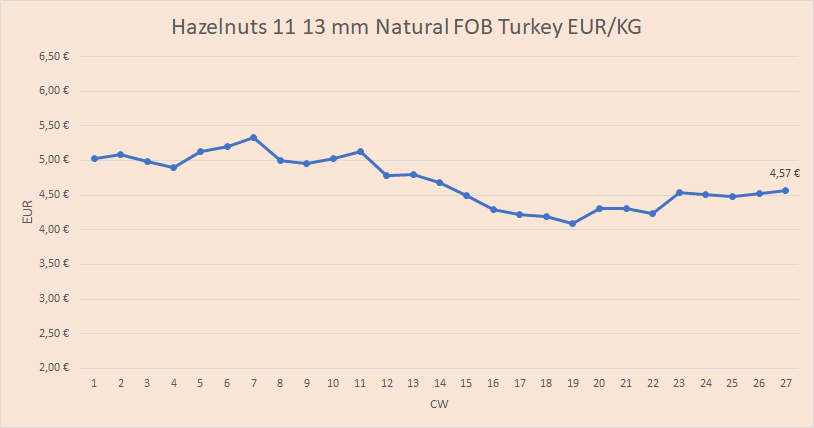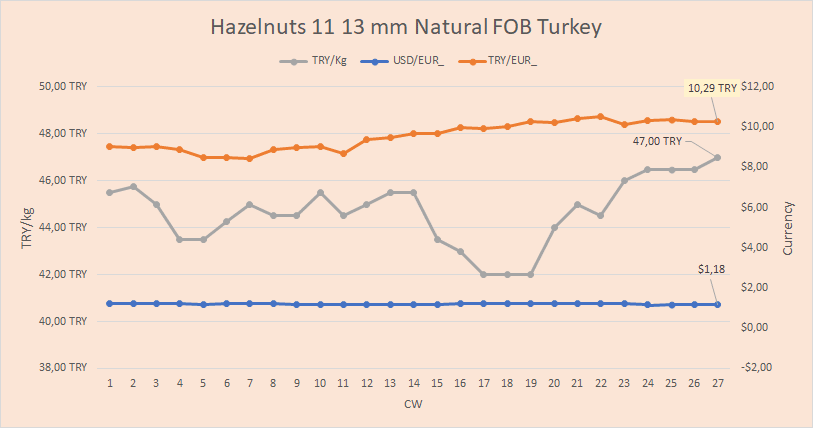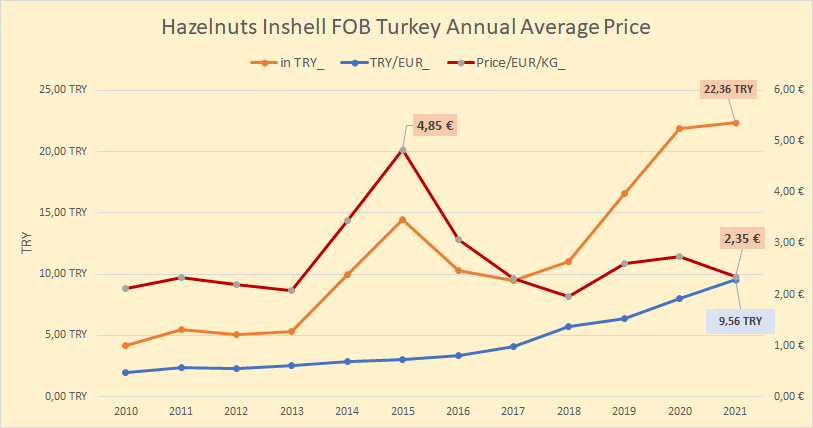 For more information, facts and figures, become a member. Click here.