After hectic years in Hungarian poppy seed production by now the segment seems to consolidate. [swpm_protected visible_to="logged_in_users_only" custom_msg='This content is for members only. Please login or sign up now.'] In 2014, Morphine production with near hundred years tradition in portfolio of Alkaloida pharmateucical company was cancelled. The decision has caused very deep chaos among the Hungarian poppy seed players which had significant influence on the size of the cultivated areas. For a while the Hungarian poppy growers produced both sorts industrial and food quality poppy seed either, currently the food quality poppy seed represents the 97% of the total sown fields.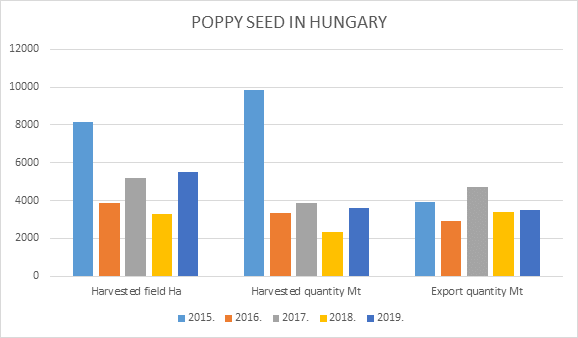 Source : KSH

Concerning the current poppy plantations the very frosty early Spring (-8-10 Celsius Grade in April) significantly damaged the young germinating plants. The damaged fields has reached the 30 %. The remained plantations are estimated between 5000-6000 Ha. They are in good conditions but there is no consesus about expected quantity and prospective purchasing price. Although there is still long time until harvest mainly becuase of the cold April and May the most probable price of the Hungarian blue poppy <10 mg is expected according to the traders between 2.00-2,30 EUR/Kg FCA HU. Harvest start is forecasted around 15th-20th of July, by 3 weeks later compared to the harvest in the past year when the start occurred in the end of June.
As usually all eyes on the Czech developments: In the coming weeks, it will become clear how many acres will be liquidated and corn or sunflower will be chosen in these areas instead of poppy. The high price of the feed corn being on the EU market does not back the poppy production although the recently appearing price fall (with moderate correction) on the oil seed market might be rather aided in decision to chose producion of poppy seed.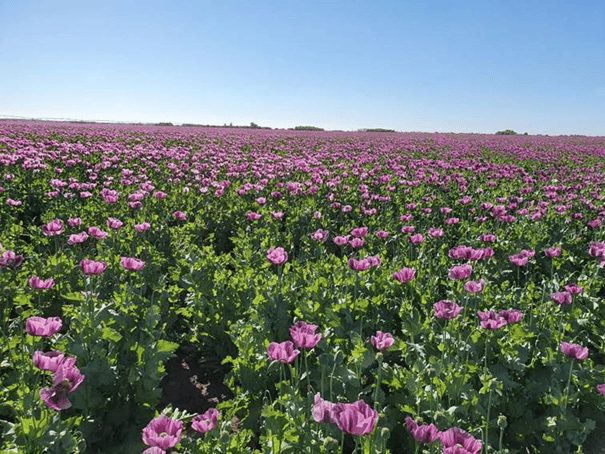 Blossoming blue poppy seed plantation in Hungary in May 2021.
[/swpm_protected]