Management Summary
– After quite active weeks, the market is now quite calm again. [swpm_protected visible_to="logged_in_users_only" custom_msg='This content is for members only. Please login or sign up now.']
– Buyers expect increasing weakness in the Turkish lira and are therefore waiting. However, some partial covering has taken place.
– TMO postpones decision on purchase bid.
– Commodity prices constant or even falling slightly.
– Turkish lira continues to trend increasingly weak.
– Export figures are developing much better than assumed at the beginning of the season.
Charts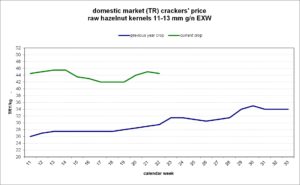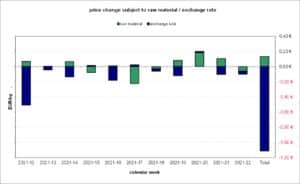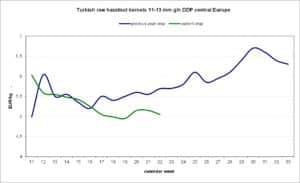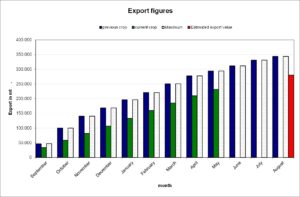 FX Market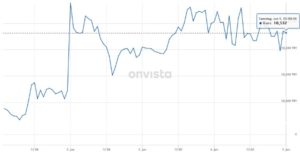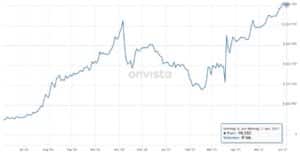 TRY/EUR – week 22/2021 – source: www.onvista.de TRY/EUR – 12 month – source: www.onvista.deFX market
Market enters the last three months of the current season
Compared to the previous weeks, the past trading week was quieter again. Many buyers have made the urgent covers and are waiting for further purchases. The reason for the hesitant behaviour is essentially the development of the Turkish lira. The currency has been weakening for weeks, and analyses by various banks forecast further weakness. Accordingly, many buyers see a terrible deal in buying too early. Market participants are still waiting for a better exchange rate. This always involves certain risks, especially since the TMO has not yet fixed the purchase price. So far, the market is assuming a bid between 25 and 26 TRY/kg. The free market is expected to settle around 1 TRY/kg below this value. This depends mainly on the buying bid the market leader will set and what buying strategy it will go into the first months. However, it should be noted that if the Turkish lira weakens sharply again in the next few weeks. Realistically, the TMO will set the bid even higher, as it is assumed that at least the level at which the previous deals were made is realizable.
A look at the export figures confirms the excellent mood of the exporters. Alternative origins such as Georgia or even Italy are currently above the level of Turkey. There is still good buying interest from Italy because of the small upcoming harvest. Thus, the season will still end well above expectations at the start of the season.
We expect the market to remain quiet in the coming weeks. There are no major decisions to be made. The TMO will wait a little longer, and no confidence-building measure is expected from the monetary authorities. The ball is really in the providers' court now. Are they also willing to enter currency speculation and thus lure buyers for long-term deals? So far, caution prevails, and despite the high level of competition, the pressure to sell is not increased now as most have some backlog of orders on the books again.
Hazelnut Timeline
[/swpm_protected]